August 2016 Press Release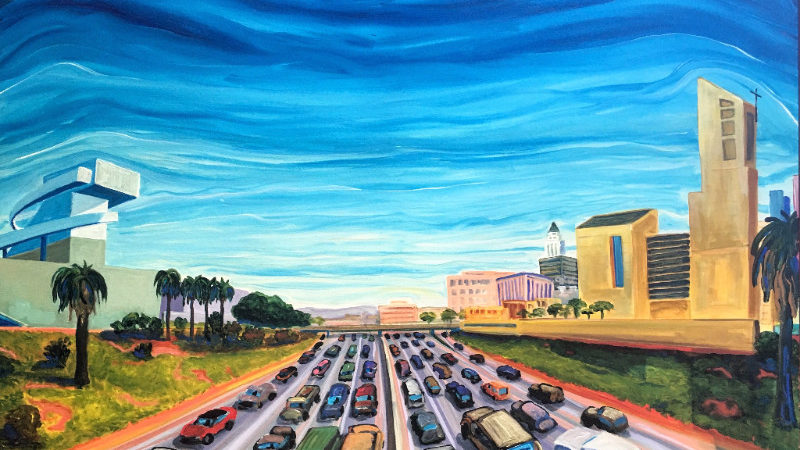 FOR IMMEDIATE RELEASE
THE AUGUST 11th DOWNTOWN LOS ANGELES ART WALK
LOS ANGELES
August 4th, 2016 —
Please join us at the Downtown Art Walk Lounge on Thursday, August 11th as we study the nature of movement and connectivity in our city's ever changing neighborhoods through a beautiful showcase of paintings and photographs by local Los Angeles artists Diego Cardoso and Carol Cirillo-Stanely.
Participating galleries for this month's Downtown Art Walk event include: Howard Griffin Gallery, Gloria Delson Contemporary Arts Gallery, The Spring Arts Collective, LACDA, DAC Gallery, the Fine Arts Building, and The Hive.
For more information, please visit our website or Facebook.
PROGRAMMING
Art Walk Lounge — 634 S. Spring St. Los Angeles, CA 90013, 6-10pm.
Our monthly Art Walk Map, provided by the Los Angeles Times, will be available at the Art Walk Lounge and all participating galleries.
EXHIBITING ARTISTS:
Diego Cardoso (featured image):
LA is famous for its traffic, without a doubt, and with the countless songs, movies, and music videos referencing our city's streets (and traffic), it is tough for anyone to deny that the way Los Angeles moves as a whole has reached nearly historical proportion!
Inspired by the vehicles, buses, bikes, and people, that fill and navigate our busy road and highway systems, Los Angeles based artist, Diego Cardoso, has found an entrancing and almost romantic way of depicting some of our city's most iconic intersections, overpasses, and neighborhood roads. As a planner who designs transportation systems, Cardoso has learned that a certain urban form is generated by the transportation systems we choose to use each day and Los Angeles is a prime example of this. Through his art work, Cardoso hopes to capture this aspect of our city and show the central role that transportation and movement have in making Los Angeles what it is today.
With subjects varying according to whim, Carol Cirillo-Stanley's work communicates and adds a sense of mood, nuance, design, and meaning to moments or things in life that would otherwise go unnoticed. Photographing everything from still life objects to landscapes, her work reflects an awareness and appreciation for all things unexpected or unseen due to their regular placement and inclusion in everyday life. Drawing on inspiration from artists Imogene Cunningham, Minor White, David Hockney, Georgia O'Keefe, and Edward Hopper, Stanley encourages the audience to engage with her pieces and transform each photograph from its abstract state to reality.
For more information, please visit our website or Facebook.
ABOUT THE DOWNTOWN ART WALK
The Downtown Los Angeles Art Walk takes place on the second Thursday of each month, attracting over 12,000 attendees to the Historic Core. For 12 years, Art Walk remains the premier self-guided public art phenomenon in Downtown Los Angeles, bringing together art lovers, community members, and repeat visitors who collect art, dine, and shop at local businesses.