October 2016 Press Release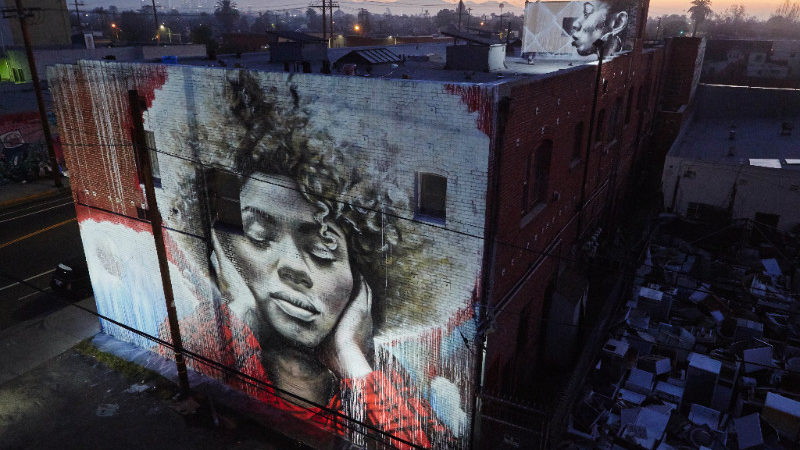 FOR IMMEDIATE RELEASE
THE OCTOBER 13th DOWNTOWN LOS ANGELES ART WALK
LOS ANGELES
September 27th, 2016 —
This October, the Downtown Art Walk will be welcoming the artists and organizers behind Smile South Central, a community mural project curated by Adam Ayala, to our Art Walk Lounge. Located on 634 S. Spring Street, the exhibition will feature art work from many of the project's central contributors with the aim of shining a spotlight on the efforts of those working to bring murals into one of LA's most under served artistic communities.
The show will take place from 6 to 10pm and will include artists: Clinton Bopp, Afrika 47, Bisco Smith, Skid Robot, Ben "Chubs" Barnes, Shadow Monster Bear, Illuzina, Phobik,Tarajosu, & more.
Smile South Central is a unique street art project taking place in the neighborhood of South Central, Los Angeles. Historically, whether it be for political, personal, or even commercial reasons, street art & graffiti has occupied a unique, and often provocative space within the traditional contemporary art world. Blending fine art techniques together in what many consider a low brow setting, street artists have often used striking public visuals to amplify their voice and draw attention to people or ideas that they believe matter. In the case of Smile South Central, however, artists from various personal and artistic backgrounds have gathered together to showcase not just their own voice, but the voice of a community.
Participating galleries for this month's Downtown Art Walk event include: Please Do Not Enter, Berta Art Studios, These Days Gallery, Little Tokyo Art Complex, Think Tank Gallery, the Lobby Gallery, Fathom Gallery, The Spring Arts Collective, DAC Gallery, Ren Gallery, Howard Griffin Gallery, Gloria Delson Contemporary Arts Gallery, the Fine Arts Building, and The Hive.
For more information, please visit our website or Facebook.
ABOUT THE DOWNTOWN ART WALK
The Downtown Los Angeles Art Walk takes place on the second Thursday of each month, attracting over 12,000 attendees to the Historic Core. For 12 years, Art Walk remains the premier self-guided public art phenomenon in Downtown Los Angeles, bringing together art lovers, community members, and repeat visitors who collect art, dine, and shop at local businesses.