The Downtown Art Walk Presents: "The Pope of Broadway Revisited"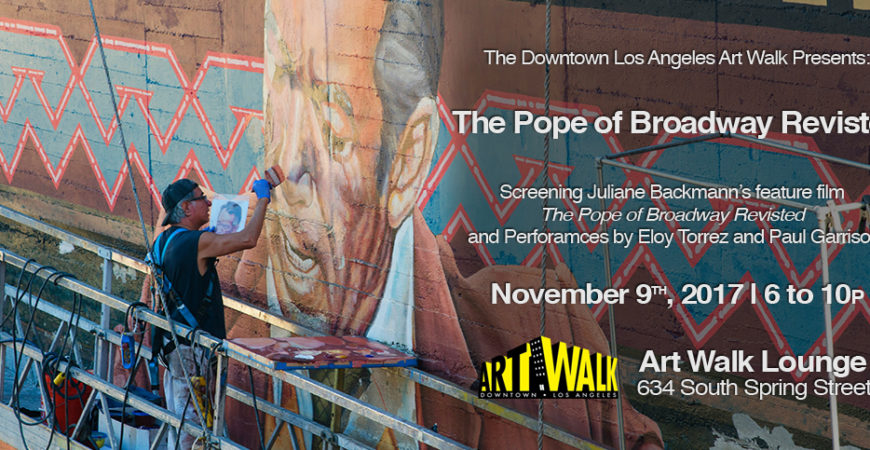 Artist Eloy Torrez at work, from Juliane Backmann's The Pope of Broadway Revisited, 2017 (still).
Courtesy of the artist.
FOR IMMEDIATE RELEASE
OCTOBER 31, 2017 —
The Pope of Broadway Revisited
DOWNTOWN LOS ANGELES ART WALK LOUNGE, 634 South Spring Street
November 9th, 2017, 6:00 to 10:00pm.
Los Angeles— The Downtown Los Angeles Art Walk is pleased to present The Pope of Broadway Revisited, an exhibition bringing together the work of artists Juliane Backmann and Eloy Torrez, for a visual and musical experience, to the Downtown Art Walk Lounge.
Titled after Juliane Backmann's 2017 documentary, The Pope of Broadway Revisited, the exhibition is an homage to one of Downtown's most prominent murals, The Pope of Broadway, which was recently restored in 2017, thirty-one years after its original completion in 1985. The Pope of Broadway Revisited marks the film's second ever screening, as well as additional works by Backmann and Torrez, along with special live musical performances by Eloy Torrez and guitarist Paul Garrison.
The Pope of Broadway Revisited will be on view for one night only.
November 9th from 6pm to 10pm.
Film screenings at 7:00pm, 8:00pm and 9:00pm.
Performances by Eloy Torrez and Paul Garrison at 6:30pm, 7:30pm and 8:30pm.
ABOUT THE FILM
The documentary The Pope of Broadway Revisited by Juliane Backmann chronicles the 2016 restoration of The Pope of Broadway mural by Eloy Torrez, originally painted in 1985. The film tells the story from developing financing and restoration concepts to the actual work process with all the essential components. It is a first hand report from the swing stage that closely follows the artist and the people involved.
ABOUT JULIANE BACKMANN
Born in Muenster, Germany, Juliane Backmann studied photography at the Academy of Photo Design in Munich. She now lives in Los Angeles and is working on numerous fine art projects that include documenting urban landscapes as well as a number of portrait series, utilizing assemblage, collage and unconventional darkroom techniques. She has recently created a number of video works and documentaries as well.
Her photographs, collages and installations have been exhibited throughout the United States and Germany. She was awarded a residency from the Emily Harvey Foundation in Venice, Italy in 2013 and won several awards from the APA and PX3.
ABOUT ELOY TORREZ
Artist and songwriter Eloy Torrez was born in Albuquerque, New Mexico in 1954. He studied Art at the Otis Art Institute of Los Angeles. He has lived and worked in Los Angeles for over thirty years and has created an extensive body of work that includes personal paintings, public art, murals and musical compositions.
Torrez' awards include the 2009 C.O.L.A Award, the 2004 California Community Foundation Grant and the 1995 Brody Fellowship for the Humanities, the Hollywood Arts Council "Charlie" Award for Public Art. He is also a recipient of several artist residencies and has conducted art workshops for all ages at Self Help Graphics, the Covenant House in Hollywood, the Boys & Girls Club of Hollywood and, the HeArt Project/ Central High School Drawing & Painting Workshops as well as other entities and schools in Southern California.
ABOUT THE DOWNTOWN ART WALK
The Downtown Los Angeles Art Walk takes place on the second Thursday of each month, attracting over 12,000 attendees to the Historic Core. For 13 years, Art Walk remains the premier self-guided public art phenomenon in Downtown Los Angeles, bringing together art lovers, community members, and repeat visitors who collect art, dine, and shop at local businesses.