The Downtown Art Walk Inspires Kiev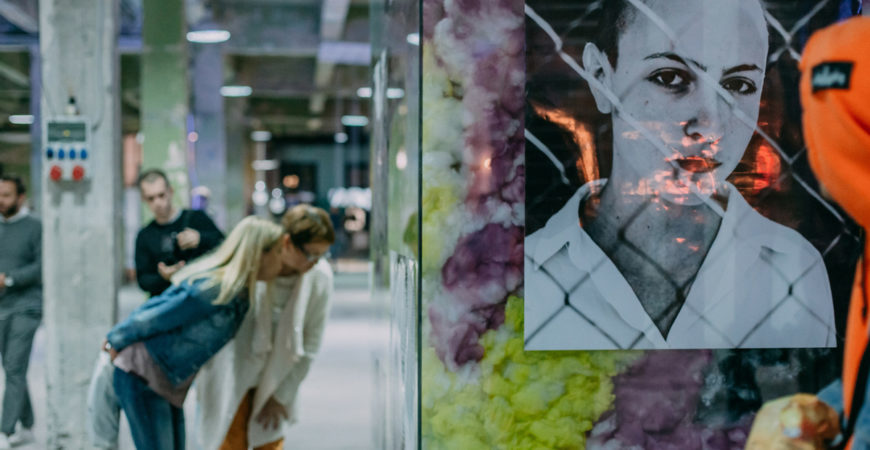 An Art Walk Personal Experience
by guest blogger Alice Iakibovych,
Kiev, Ukraine
I first came to Los Angeles almost 2 years ago. I was looking for some artistic inspiration and direction for my life.
In the Ukraine, Los Angeles is known from the big screen – Malibu lifeguards, the Oscars, the Hollywood Sign. But this isn't what drew me here. I wanted to see what projects were driving Downtown Los Angeles, and feel the quotidian breath of the city.
It was July 9, 2015, the 2nd Thursday of the month and 90 degrees Fahrenheit. I got to Spring Street by accident. An unconventional lady named Lara picked me up in the Art Walk Lounge and started the evening by showing me a performance of considerable virtuosity in an empty theater filled with mechanistic art. Many participating galleries were open for visitors for free. In the pop-up art installation at Floyd's 99 Barbershop, there was a photo exhibition. Dozens of different artists sold their artworks right on the street. A young lady twirled a luminous hula-hoop nearby. Unique offerings appeared around every corner.
After my visit, I was inspired. I decided to organize an exhibition of Ukrainian photographers in Hollywood. I posted an Open Call online and selected images from 13 of the most talented artists from the Ukraine.
Titled "War & Peace", the exhibition opened on August 24, Ukrainian Independence Day. It is estimated that about 500 people were present and it lasted about three weeks. It was a successful first experience for me as a curator.
When I returned to the Ukraine, I was inspired by Downtown Art Walk. I started searching for the equivalent of "Spring Street" in Kiev. Unfortunately, the art infrastructure in the Ukraine is very messy. We do have a lot of museums and galleries but they are scattered all over the city, and a lot of them are lagging behind the world cultural movement. So I needed to create this street artificially.
I went directly to investors who were working on the revitalization of a former silk factory, and I presented my idea of starting "Art Walk Kyiv". They were caught completely by surprise but allowed me to try, and gave me a 39,000 square-foot space for free.
Currently, I am running a giant modern Art Gallery called AkT. AkT in Ukrainian means "act" in English – a division or unit of a work in theater or film. During the past two years, I have conceptualized and curated 6 large exhibitions featuring 300 artists from the Ukraine, Canada, Germany, and France. The gallery unites all types of art – photography, videography, sculpture, music, installation, and virtual reality. Similar to Art Walk, we also have openings on the 2nd Thursday of each month. Thousands of creative young people from all over Ukraine are coming to experience hundreds of pieces of art.
Thanks to the Downtown Art Walk for inspiring new creative possibilities in Kiev!
Alice Iakibovych,
Kiev, Ukraine
Facebook: /aktproject
Facebook: /alice.iakibovych
Instagram: @akt.project